The part number for the Springfield frame is #SFFrame.
The price is $359.95 plus $19.95 shipping
This is a quick release system and requires upper and lower spools on the sides of your fork. Watch the video to understand how this works. We offer the spools for sale below also. The shield is sold seperately.
SPECIAL FEATURE
The shield can be adjusted 5/8" or 1 1/4" taller if needed with the Springfield frame.
Note that the black trim is included with the frame. We no longer engrave the trim due to restriction by Indian Motorcycle.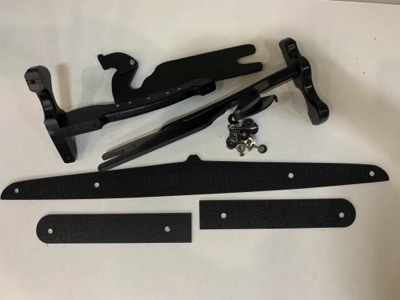 2016-2018 ONLY
Indian Springfield Bikes
windshields and frames
READ THIS FIRST
The Indian Chief and Springfield bikes use different shields and mounting frames. It might be simple but sometimes on the new bikes Indian is putting a Springfield fork on a Chief bike. It is the fork that determines which frame and shield you need. Regardless what your bike is called you need the correct frame and shield.
How to tell if you need a frame for a Chief or for a Springfiled. Usually the name Springfield is in the bikes name but not always. So this is the important tell: On the sides of the forks are two bolts. This is where the frames mount. See the red arrows. On the Chief bikes the distance between the centers of the bolts is about 8 1/4" or 217mm. The distance on the Springfield bikes is about 7 3/4" or 199mm
If you have a Springfield fork, use this page to order. If you have a Chief fork go to that page or "click here for Chief windshields"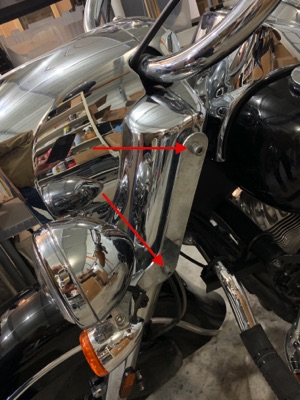 The Thunder Works windshield frame for Springfield is made of HDPE plastic (cutting board material). They are solid black throughout and UV resistant. They are extremely strong yet soft at the surface. This helps prevent scratching your bike while installing or removing the frame. It only takes 5 seconds to mount or remove the windshield frame. Once mounted it is very sturdy and cuts the wind very efficiently. All hardware is provided and is stainless steel or plastic (no corrosion). The black textured color compliments your bike very nicely. The windshields are sold seperately. Besure to get the correct frame for your bike. There are small differences between the Chief bikes and the Springfield bikes. These frames are quick release and require that you have spools on the sides of your fork. If you don't have this, you will need to buy spool kits. The Indian spools look like a metal disc about 1" in diameter and 3/8" wide.