FRAME FOR THE CHIEFS or DARKHORSE part #ChiefFrame19 $269.95 shipping $34.95 This is good for 2015- 2019 Bikes.(Please note that Indian also sells a small shield and frame that has different hole pattern and is not compatable. Our equiipment is compatable with the standard Indian shield or Freedomshield.)
Windshield and Frame
for
Chief Classic
and
Chief Dark Horse (incl. the white version)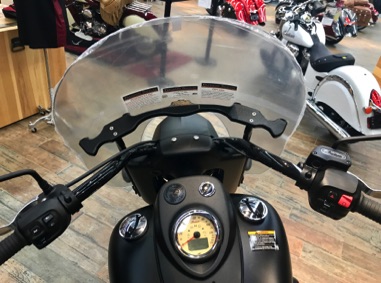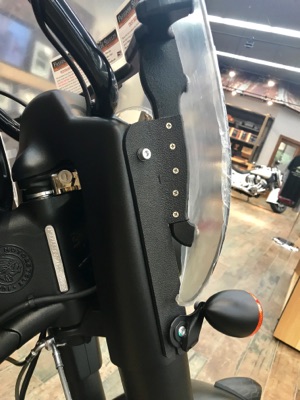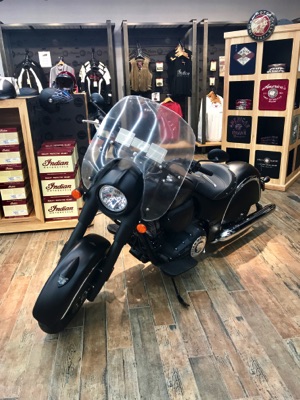 The Thunder Works windshield frame for Chief is made of HDPE plastic (cutting board material). It is solid black throughout and is UV resistant. It is extremely strong yet soft at the surface. This helps prevent scratching your bike while installing or removing the frame. It mounts or is removed in about 2 minutes by slipping it onto the bottom spool that holds your front turn signals. Then it is bolted on using the fork cover bolt above it. (Longer bolts are provided for this.) Once mounted it is very sturdy and cuts the wind very efficiently. All hardware is provided and is stainless steel or plastic (no corrosion). The black textured color compliments your bike very nicely. The windshields are sold seperately below.
Freedom Shield
Windshield fits Indian Brand frames or
Thunder Works
Please send an email if you are ordering for an Indian brand frame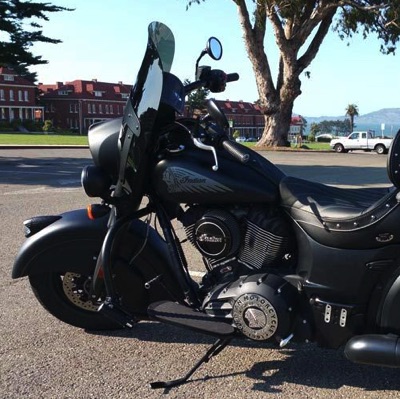 Freedom Shields have a slight up turn on the top of the windshield. This helps kick the wind up and over your head allowing you to use a slightly shorter windshield. They are made of Plexiglas and are more resistant to scraches compared to polycarbonite. Also the edges are polished and look more finished than polycarbonite. Call for help with sizing. 954-247-1450 Generally speaking 12" is good for 5"-8" and under, 14" is good for 5'-9"-5'-10, 16" is good for 5'-11"-6'-1", and the 16" is good for over 6'-1" Prices start at $169.95 plus $39.95 shipping. These are for Indian Chief bikes. If you want a shield for Scout go to the Scout windshield page.
This video features the Scout but shows you how the Freedom Shield works.

Frame for Chiefs and Dark Horse 2020. Indian made a tiny change so this frame is slightly different. PART# ChiefFrame20 $279.95 plus $34.95 shipping.