WINDSHIELDS AND FRAMES
for SCOUT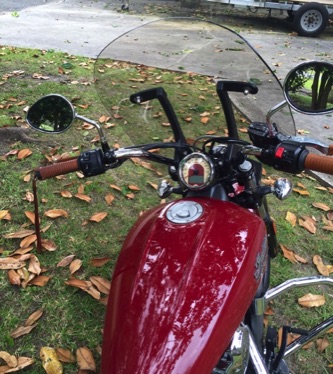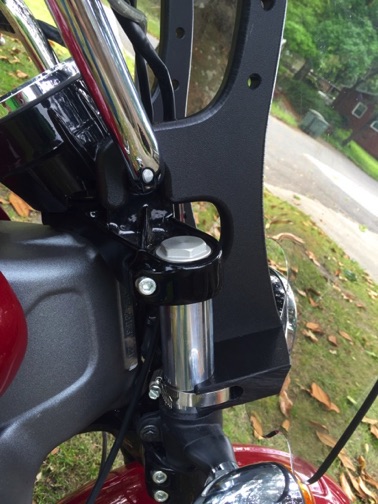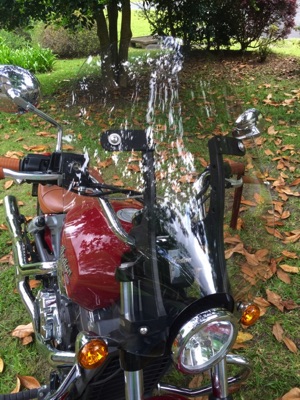 Frame for Scout Part #Sct-Frm $259.95 plus shipping $24.95  This is made to go on and off of the Scout with ease. Two hose clamps hold it firmly in place. The hose clamps are built in to the bracket. (no loose parts to loose) The frame is made of black polyethylene plastic. It is super strong but wont scratch your bike while installing it. It  takes about 60 seconds to remove or install it. It fits on any handle bar for the Scout and Scout 60 (not the Bobber). This is for the frame only. Hardware is included.
IF YOU INSTALLED HANDLE BAR RISERS YOU WILL NEED A CUSTOM FRAME LISTED HERE:
Frame for Scout with our 1 1/2" and 2" handlebar risers installed . We modify our standard Scout frame to accomdate the use of the risers. The windshield still fits normally and is positioned the same. By making this purchase along with your frame purchase we will know to customize it for you.
Frame for use with 1 1/2" handlebar riser add on fee $59.95
Part #Sct-Frm-ADD 1.5
Frame for use with 2" handlebar riser add on fee $59.95
Part #Sct-Frm-ADD-2
The shields come in several height options.
The 18" is for riders under 5'-4".
The 20" is for riders 5'-4" to 5'-8"
The 22" is for riders 5'-8" to 5'-11
The 24" is for riders 5'-11" or taller
If you are on the border line between two sizes consider if you have a tall torso or you are all legs. Also consider if you slouch or sit very upright.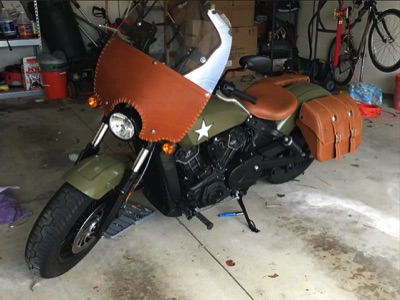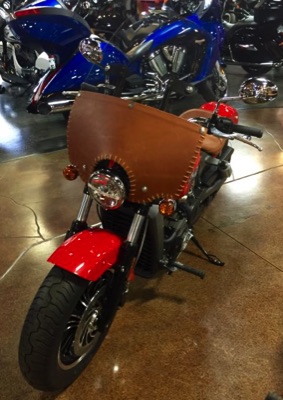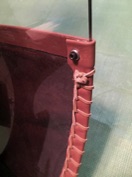 Half leather covered windshield for any bike. Includes Freedom Shield (any size) and leather covering. (Design may vary from bike to bike.) Part #4020 $669.95 shipping $39.95 Allow 2-4 weeks for this product. Frame sold seperately.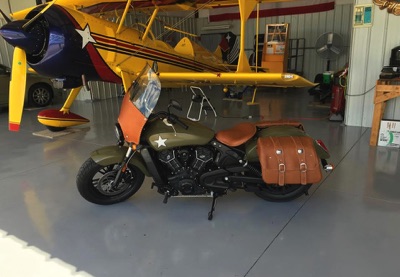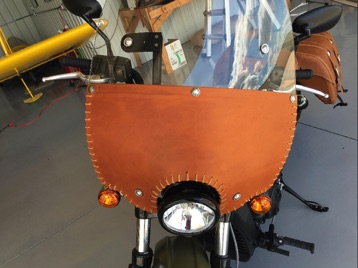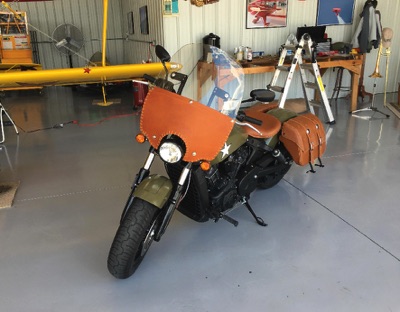 SHIELD FORWARD FRAME
This version places the windshield forward 2" more than the normal frame. This could be used If you want Ape Hangar bars or something like a frame bag that take up room. part #Sct Frm Forwd $299.95 plus $26.95 shipping
Black Clamp Option
If you want the built in hose clamps to be black we can powder coat them for an additional $10 fee. The hose clamps are at the bottom of the frame and wraps around the forks. Select this "Add to Cart" button to add this feature.
You may also select the tint color you want. Keep in mind that the dark tint looks good on black bikes it is hard to see through at night. Mostly you look over the shield but if a cat runs infront of you at night it might result in a problem.
There is a $49.95 fee for shipping the shield.
The windshield and the mounting frame are sold separately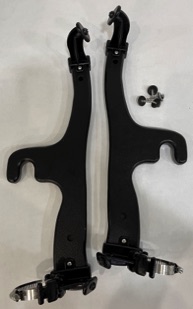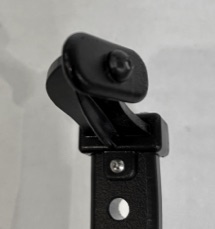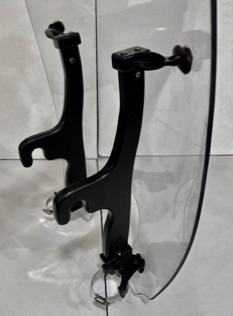 As of May 2021 the frames have a new style as shown here. They are more refined and easier to install. It has a bump to help you align the holes and the fork clamp is even easier to install. The hose clamp can be replaced if needed or you can buy a black one later if you desire. It only takes about one minute to install or remove the shield onto your bike. the mouinting system is very secure and keeps the shield cutting the wind as it is meant to.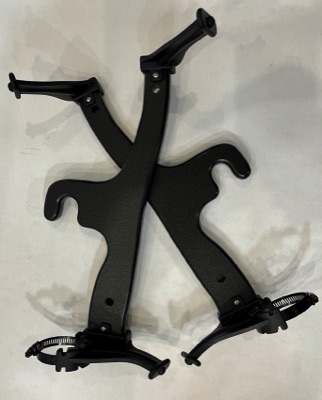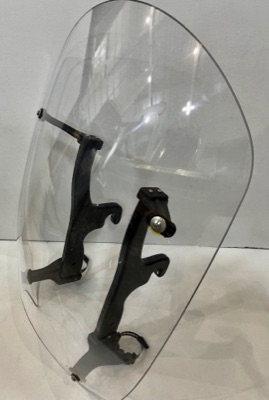 SEE BELOW FOR A FRAME TO MOUNT THE SHIELD FORWARD