"Insert Dog Here" Pet Carrier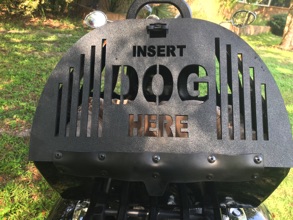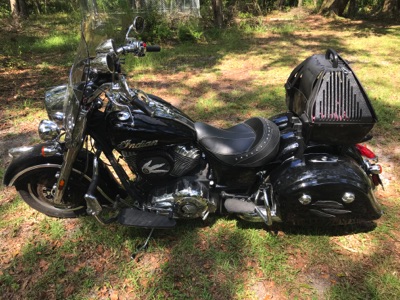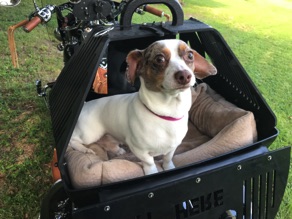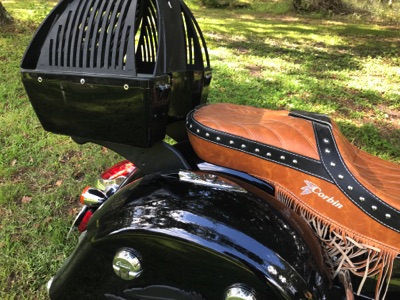 The "Insert Dog Here" pet carrier is a durable, well ventilated, and spacious way to drag your dog everywhere. It comes complete with instructions printed on the lid. It is offerred two ways. One mounts onto any of the Thunder Works luggage racks witha quick release system. The other has its own mounting bracket that is also quick release and does not require a luggage rack. In fact it mounts behind the passenger seat. You have to provide your own bedding and your own dog. OItherwise it is ready to go.
Pet Carrier for 111 bikes with a Thunder Works luggage rack. part #111pet box-rack $439.95 plus $59.95 shipping
(Luggage rack sold seperately.) CURRENTLY NOT AVAIL
Pet Carrier for 111 bikes with Thunder Works with saddle bag spools. (No luggage rack required.) part #111-pet box-ind $499.95 plus $79.95 shipping
CURRENTLY NOT AVAIL.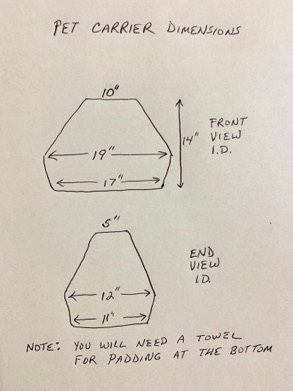 Here are the inside dimensions (in inches) of the pet carrier. The carrier can carry plenty of weight but you don't want your dog to be too crowded. Also remember that you need some kind of pad on the bottom. 25-30 pounds is probably the maximum size dog but that is still on the large size. So you might have to get a new dog. Sorry we don't make the rules.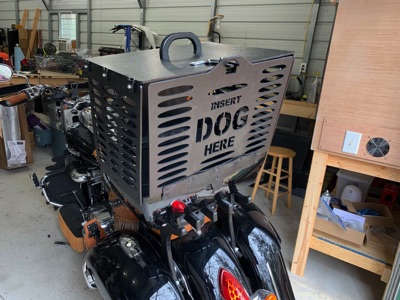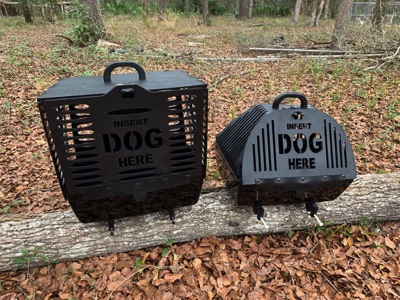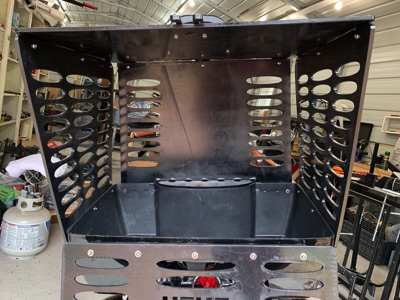 We also offer a larger version of the "Insert Dog Here" Pet Carrier. This one can hold dogs up to the 35 (maybe 50) pound range. Watch the video for clues to size potential. The inside dimensions are 11" x 19" at the bottom. 17" x 20" at the top and 20" tall. If you make a cardboard box with these dimensions, it will help you determine if your dog is a candidate or you need to get a smaller dog. The comfort and safety of your dog is on you.
Large "Insert Dog Here" Pet Carrier for 111 bikes with a Thunder Works luggage rack. part #111-Lg pet box-rack $499.95 plus $79.95 shipping
(Luggage rack sold seperately.) CURRNETLY NOT AVAIL
Large "Insert Dog Here" Pet Carrier for 111 bikes with Thunder Works with saddle bag spools. (No luggage rack required.) It includes a quick release system that works with 2 up riding. part #111-Lg pet box-ind $559.95 plus $99.95 shipping
CURRENTLY NOT AVAIL