Thunder Works
Leather Drink Holders
The Thunder Works leather Drink Holder can be mounted almost anywhere. It utilises a a special mounting bracket that allows you to lock it into many positions. It will mount onto any bar 3/4" to 1 1/4" in diameter and comes with all the neccessary hardware and adaptors. Because it mounts on any bike bar and can be articulated to many positions it allows you to find a good location. The swivel has ribs that allow you to rotate and lock into 32 positions. A simple twist of the knob will allow you to change it. It is made from high quality cowhide leather and will withstand many years of weather. We offer three models. A small, large and adjustable. The bar mount is made of aluminum. (This part is made in China.) The main body is 3D printed on a high end resin printer. The leather is quality cowhide. These are made in America and the prices are high but the quality is tops and we stand behind it.
Small Black leather drink holder will hold a soda can or typical 16.9 ounce water bottles. part #SmBlkDrink
$65.95 plus shipping $10.95
Small Tan leather drink holder will hold a soda can or 16.9 ounce water part #SmTanDrink $69.95
shipping $8.95 This tan leather is hand dyed and has a old leather look.
The large drink holders will hold a drink up to 3.5 " in diameter. Gator Aid 28 ounce as well as square 1 liter Fiji bottles will fit. Of course smaller bottles will also fit.
Large Drink Holder Black
part# LgBlkDrink
$85.95 + $11.95 shipping
Large Drink Holder Tan
part# LgTanDrink
$89.95 + $11.95 shipping
It comes with a black anodise aluminum clamp that will fit bars from 3/4" to 1 1/4" (adaptors are included). This covers anything on an Indian bike. You can then swivel and lock into any of 32 positions and the drink holder is rigid. The drink rides better in a rigid hold than a gimbled holder.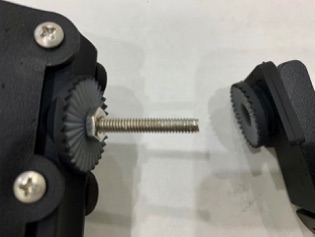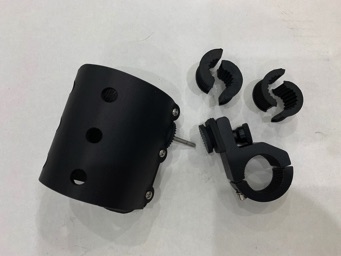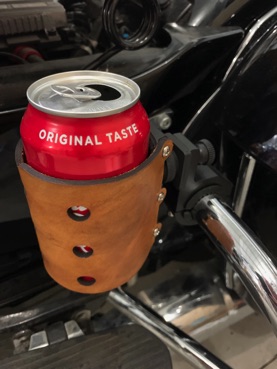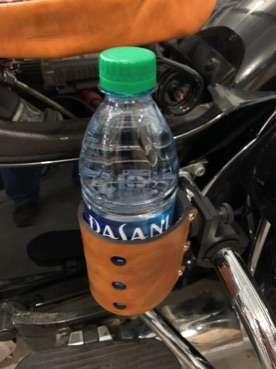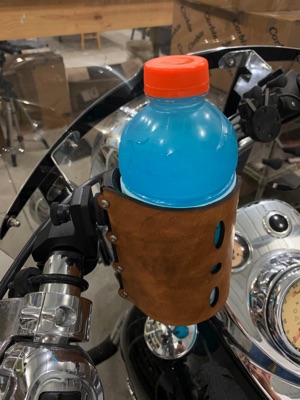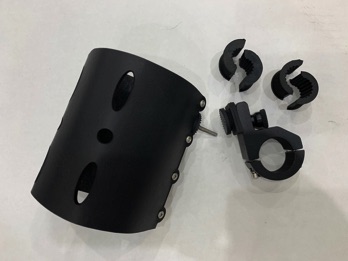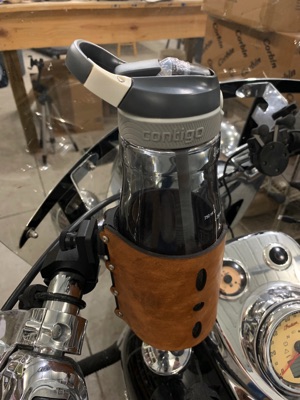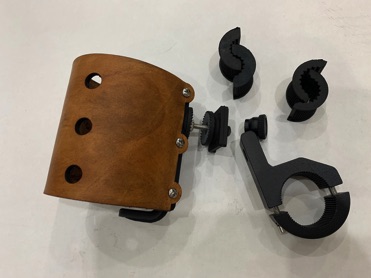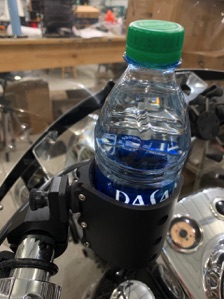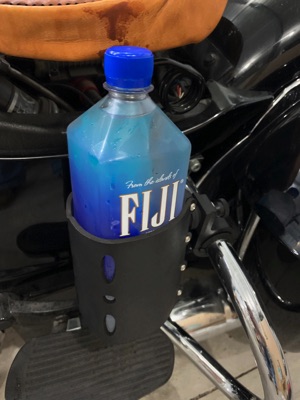 Adjustable Drink Holder
This can be sized to fit any bottle from 2.5" up to 3.5" diameter. No tools are required to adjust the size and it only takes seconds to do. It uses the same mount and locking swivel system and can be mounted on any bar 3/4" to 1 1/4".
Black leather adjustable drink holder
$109.95 plus $12.95 shipping
part #AdjBlkDrink
Tan leather adjustable drink holder
$119.95 plus $12.95 shipping
part #AdjTanDrink