The "Dashboard" is a "quick release" dashboard that mounts onto your handle bars. Fits on most any motorcycle. I has a 600 watt amp., the best phone holder available, charging cable for your phone, and twin speakers built-in.
It only takes one minute to install or remove the "Dashboard". Power connector and cable are included.) It is prewired and ready to go. The unit comes with RAM clamps and double swivels. It is easy to find the right position for your "Dashboard". The phone mount is very easy to use, is extremely secure and can handle large phones like the iphone 7 plus with a normal case. The unit comes with an 8" charging cable (iphone or android) so your phone is on charge. You can use the "Bluetooth" or audio cable to connect to your phone (both are included). Now you have your tunes to cruise with. The speakers can really crank out the volume.
THE WHOLE UNIT CAN HANDLE THE RAIN!
This is for riders that don't have a fairing but occasionally want some tunes and easy access to the phone. Remember your phone has a built-in GPS map system. Now you can find your way to Sturgis.
Complete system with 90 day warranty part #DASH-600-B $459.95 plus $24.95 shipping. Comes with iphone connector unless you request android via email. IndianAftermarket@gmail.com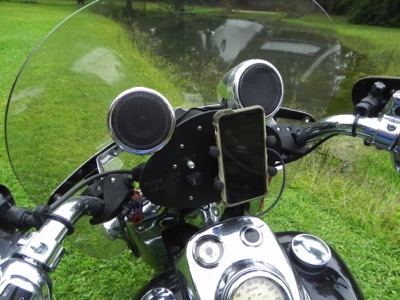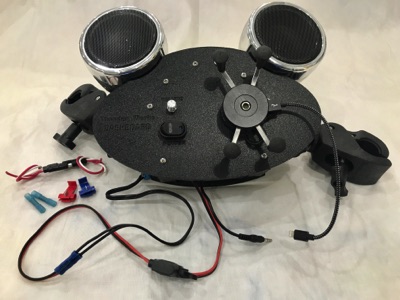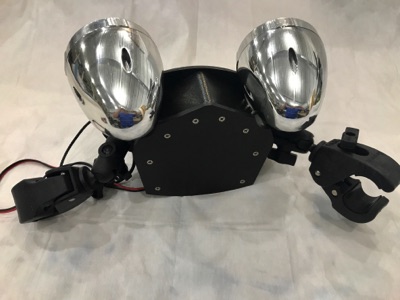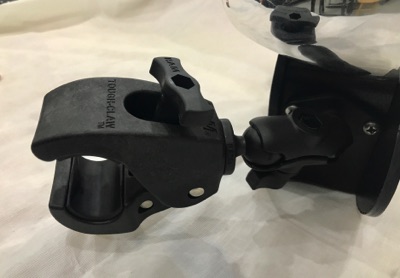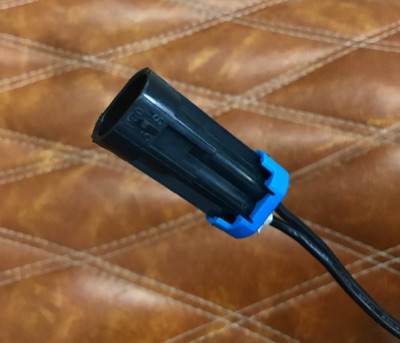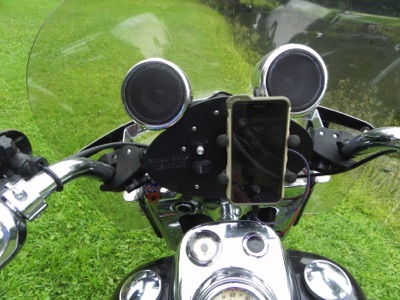 Here is the "Dashboard" installed on a Springfield with an iphone 7 plus mounted.
The 111 Indian bikes usually have a 12v connector near the fork already installed on the bike. Look under the right hand side of the handlebars for a connector with blue on it. We will prewire your Dashboard with the mated connector. This will make the unit completely ready to plug and play. The bad part is that Indian is using an unusual connector. It normally cost $60 to buy it from Indian with a cigarrette lighter attachment. We have found a source and it is now included prewired on the Dashboard for Indian bikes.