The "Dashboard" is a "quick release" dashboard that mounts onto your handle bars. Fits on most any motorcycle. I has a 600 watt amp., the best phone holder available, charging cable for your phone, and twin speakers built-in. It is weatherproof and it also has an FM radio built-in howeverit has no station display.
It only takes one minute to install or remove the "Dashboard". Power connector and cable are included.) The unit comes with RAM clamps and double swivels. It is easy to find the right position for your "Dashboard". The phone mount is very easy to use, is extremely secure and can handle large phones like the iphone 11 Max with a normal case. The unit comes with an 8" charging cable (iphone or android) so you can charge your phone while riding. It uses the "Bluetooth" to connect to your phone. Now you have your tunes to cruise with. The speakers can really crank out the volume.
THE WHOLE UNIT CAN HANDLE THE RAIN!
This is for riders that don't have a fairing but occasionally want some tunes and easy access to the phone. Remember your phone has a built-in GPS map system. Now you can find your way to Sturgis.
Complete system with 90 day warranty part #DASH-600-B $659.95 plus $34.95 shipping. Comes with iphone connector unless you request android via email. IndianAftermarket@gmail.com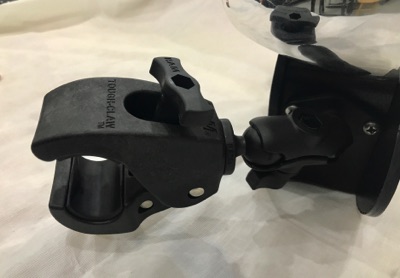 The Dashboard comes with a long power cable that you can cut to desired length. You will also get splice connectors. This allow you to splice into any power source without cutting the wires. A quick disconnect is also included. You usually can find a power source around the fork area or you can go back to the battery if desired. Once set up you will be able to disconnect the Dashboard and take inside in less than 60 seconds.