Challenger 2 UP DIY Platform
This is the complete quick release mounting system for the "Do it yourselfer". The top plate is 1/4" thick ABS (approx. 17.5" x 11"). It is easy to drill holes in it and mount anything you want such as your own trunk. It uses the same quick release system as our complete 2up trunk set up.
Part #Chall-Sm-DIY-2 up Platform $299.95 plus $34.95 shipping.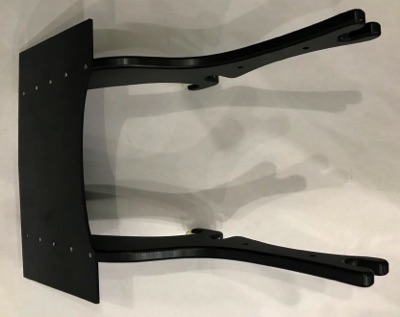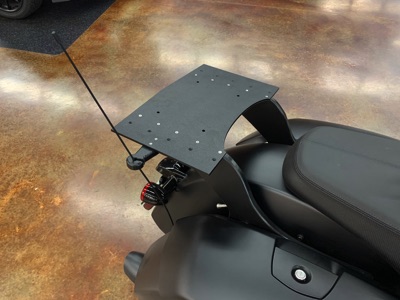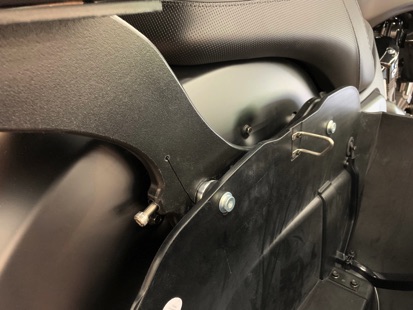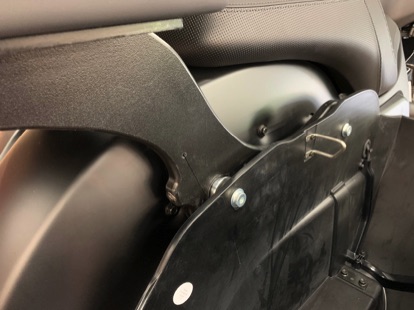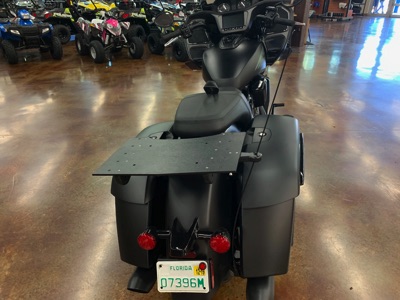 This "Do it Yourself" platform allows you to mount your own trunk or other device on the back of your Challenger. It features a very secure quick release system. It only tke a few seconds to install or remove. At first we included an antennae management bracket as shown. But it turns out you can pivot and swivel the antennae at the base. This allows you to place it at many angles and not hit your trunk. So ignore the bracket in the photos. Also not shown are 4 spacers rings that go on the spools to prevent the brackets from rubbing on the saddle bag lids. The lids open and close fully with the brackets in place.
The security screws secure the brackets in place by pinching a part of the bracket tight around the rear spools. You can screw it all the way in until it dissappears. It requires a 6mm allen wrench to secure and remove.
LARGER TRUNKS
This is the same set up but comes with a larger flat plate. It is approx. 19.5" x 13" Part# Chall-Lg-DIY-2 up $329.95 plus $39.95 shipping.