Thunder Works
Leather Drink Holder
The Thunder Works leather Drink Holder can be mounted almost anywhere. It utilises a a special mounting bracket that allows you to lock it into many positions. It will mount onto any bar 3/4" to 1 1/4" in diameter and comes with all the neccessary hardware. If you are able to mount a less expensive drink holder on your bike, then go for it. This is a solution for people that want top quality and can't find a location for most of the drink holders on the market. Because it mounts on any bike bar and can be articulated to many positions it allows you to find a good location. It is made from high quality hand dyed leather and will withstand many years of weather.
Black leather part #6060-B $85.95
shipping $8.95
Tan leather part #6060-T $95.95
shipping $8.95 This tan leather matches the Indian leather on the new bikes.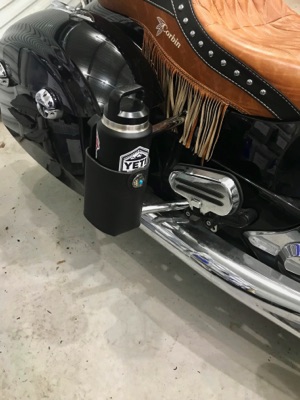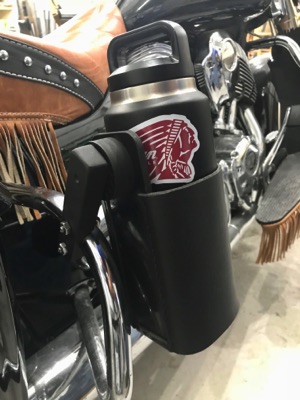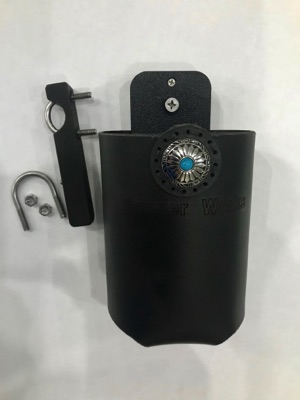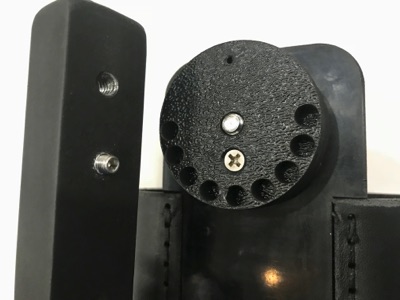 Finally, a large drink holder. This will hold large bottles like the YETI 32 ounce shown. (up to 3.75" diameter bottles) (you provide the bottle). It comes with an indian concho which vary in design. This leather drink holder is very high quality and it is uses the same strong mounting bracket. The back plate is ABS with the heavy leather sew directly onto it. The mount is solid aluminum with a stainless steel u-bolt for 1" and 1 1/4" bars. The mount allows you to mount the bracket at different angles and still hold the bottle vertical in a way that prevents it from flopping around. Price $129.95 plus $9.95 shipping Also available in tan.
Jumbo Drink Holder Black
part# JDrinkH-BLK
Jumbo Drink Holder Tan
part# JDrinkH-Tan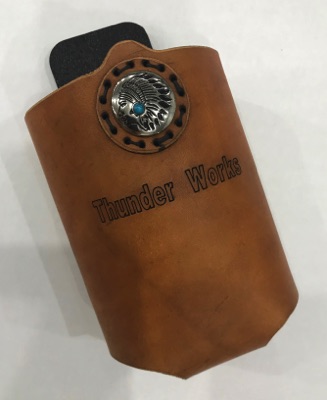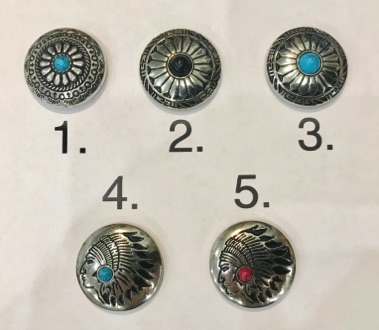 If you want to choose the concho, please send an email with your choice of 1-5. We can usually accomadate your choice.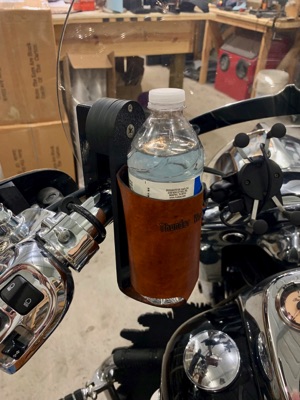 No photo of black version.